Elly-May's musical life
Written by Carly Findlay, OAM
Music has been a great source of comfort and joy for Elly-May Barnes throughout her life.
Elly-May has been a musical performer since she was a toddler, singing in The Tin Lids with three of her siblings.
"I peaked early," Elly-May jokes.
"That started a long and great love affair with music and I've been really lucky to have been in dad's band on and off since I was like 12 or 13." (Her dad is rock singer, Jimmy Barnes.)
"I just love it; it's my favourite thing."
Elly-May enjoys performing cover songs. Her social media accounts feature videos of her covering classics including David Bowie's Space Oddity, Dolly Patton's I Will Always Love You and Here You Come Again, as well as featuring in many Barnes family singalongs.
She loves to dress up, and has a wardrobe filled with costumes and colourful wigs, which feature in her performances. These performances have brought lots of joy to people who are missing live music during COVID-19 lockdown, evidence by the thousands of thankful comments on both her and her dad's social media posts.
Being on tour as a musician involves lots of travel and performing at many different venues in Australia and overseas.
"I always felt very safe and very comfortable on tour," Elly-May says.
But it can be hard on her body. Elly-May has cerebral palsy.
"I feel like most of the world doesn't seem to be built in a way that is accessible to everyone," Elly-May says.
"Touring is not made for my kind of body."
While Elly-May has plenty of support from her family and roadies when she performs at her dad's shows, she observes just how far some music venues still have to go to be accessible and inclusive of people with disability – for both performers and audience members.
Backstage areas are not wheelchair accessible and there are often steps to get onto the stage, and so Elly-May requires help getting up to perform. She says that newer venues are becoming more accessible.
Elly-May hasn't spoken about her Cerebral Palsy much until recently, as it's taken her a while to understand how it affects her. But in doing so it has helped her mental health and also enabled her to meet new friends. She's also heard from parents of children with Cerebral Palsy, and she loves telling them what's possible for their children.
Elly-May surprised herself on a family holiday in The Maldives.
"I have my whole life joked about surfing, because I'm not so sure footed on solid ground," Elly-May says.
"I always assumed that I would never be able to stand up on a surfboard and I did on my first try, and it was an amazing feeling.
"I wasn't up for long, but the fact that I could actually do it then was a turning point for me.
"You don't have to be limited by like a physical kind of difference, really, it's just a different way of getting up standing up on the board, you know?"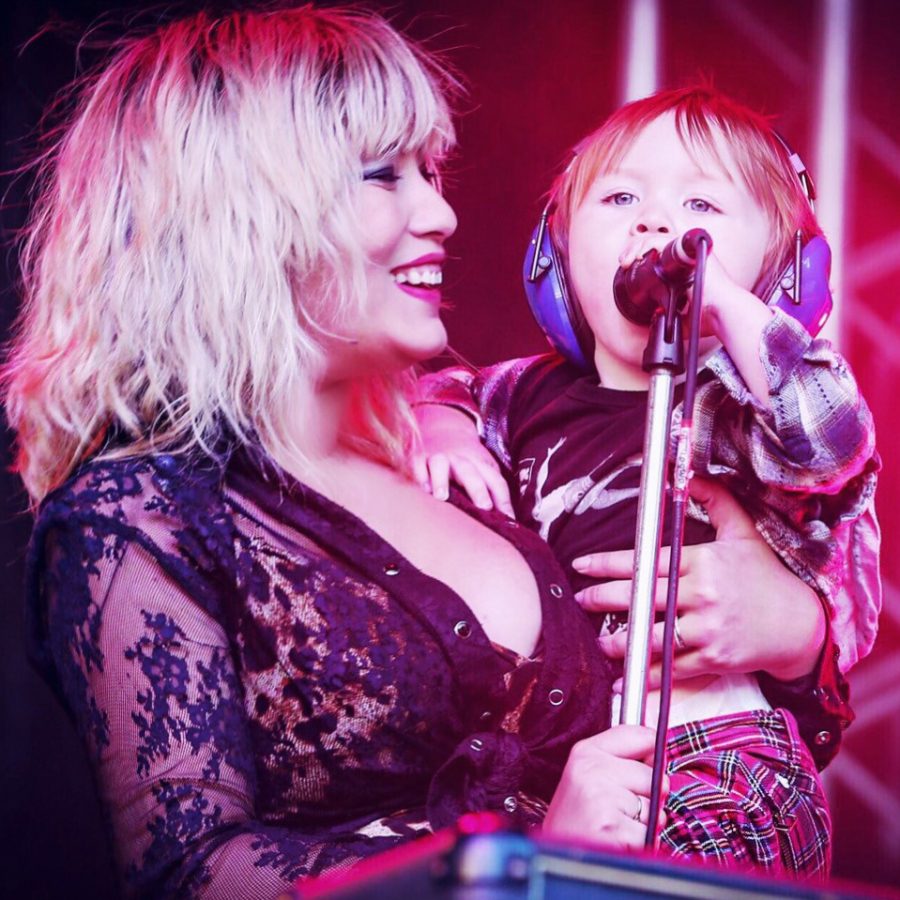 Pictured: Elly-May Barnes with her six year old son Dylan