Benalla showcases disability and seniors on IDPwD
Benalla is a small city located on the Broken River in country Victoria.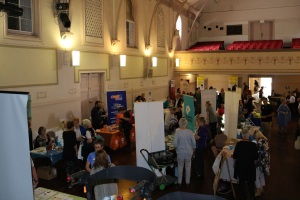 On International Day of People with Disability (IDPwD), the city held a Disability and Seniors Expo. Over 30 exhibitors took part and more than 100 people attended the two-hour Expo.
Natalie Phillips, Rural Access Worker with the Benalla Rural City Council, said this was a great initiative managed by the Benalla Accessibility Reference Group in partnership with the Benalla Age Friendly Project and Victoria Advocacy League for Individuals with Disability (VALID).
"The idea for the Expo came from our Accessibility Reference Group which is made up of people with a lived experience of disability and was instigated by one of our vision impaired members who wanted to know what activities were available to them".
"IDPwD is an opportunity to highlight what the city has to offer in the form of support and activities for people with disability and to engage the broader community".
The Expo was a positive experience for the community, particularly those involved in organising the event. It increased awareness of the services available to both disability and ageing populations.
"The Expo attendance of over 100 people demonstrates the interest in the types of events across the community," Natalie said.
Other exhibitors included The Benalla Support Group for Children with Special Needs, Regional Disability Advocacy Service, The Carers and Support group, information about community transport, CVGT Disability Employment Services and Moving Together, a dance therapy group for people of all ages with disability.
Benalla is keen to stay involved with IDPwD and is already planning a launch of an art competition for IDPwD 2019, with the winners to be announced at their next expo, which will be in April/May 2020.