Pollies play blind cricket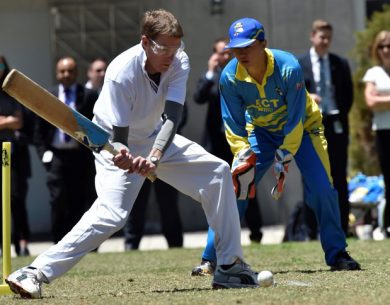 Minister for Social Services, Christian Porter captained a side of parliamentary cricketers against Blind Cricket ACT to celebrate International Day of People with Disability (IDPwD).
Mr Porter was joined by Assistant Minister for Social Services, Alan Tudge at the event on the Senate oval at Parliament House.
Mr Porter, Mr Tudge and their parliamentary colleagues wore goggles that simulate blindness during the game.
The cricket match was one of close to 1000 events held in communities across Australia to celebrate IDPwD.
IDPwD is a United Nations (UN) sanctioned day celebrated around the globe on 3 December each year.
The UN theme for 2015 is, 'Inclusion matters: access and empowerment for people of all abilities'.