IDPwD promotional products
A range of promotional products and supporting material is available each year, when you register your event, so keep an eye out for 2016 IDPwD promotional products for your event.
Organisers can choose to receive free promotional products for their celebrations.
Promotional packs in 2015 included posters and balloons to help organisers promote their event and magnetic lapel ribbons for all expected guests/attendees.
Is there something you would like to see available to help promote your celebrations? Contact us with your suggestions.
Twibbon
IDPwD is represented by an orange and blue striped ribbon. The colour blue symbolises support for the dignity, rights and well-being of people with disability and the orange symbolises the inclusion of people with disability in all aspects of political, social, economic and cultural life.
When you download the IDPwD twibbon onto your website or social media pages, you are encouraging support for the dignity, rights and well-being of people with disability and supporting a more inclusive Australia.
IDPwD brings together individuals, businesses, community organisations, and governments to celebrate and acknowledge the contributions, skills and achievements of people with disability.
Show your support by downloading the twibbon now and share with your friends.
Facebook and Twitter: Please add a #Twibbon to your profile picture and show your support!
IDPwD ribbon
Pin size: 20 x 35mm
Backing card size: 70 x 85mm
The colour codes for the ribbon are the light blue and orange as detailed in the table below. The full table of colour codes is available on the style guide page.
| Colour | Pantone | CMYK | RGB | Hex |
| --- | --- | --- | --- | --- |
| Orange | 151C | 0,48,95,0 | 247,127,0 | #F77F00 |
| Light Blue | 298C | 68,3,0,0 | 81,181,224 | #51B5E0 |
Downloadable products
Posters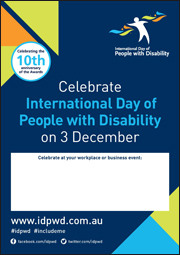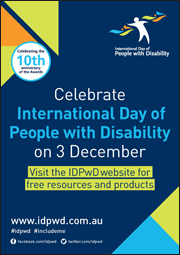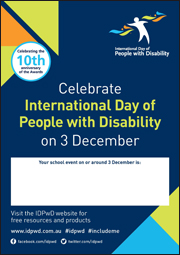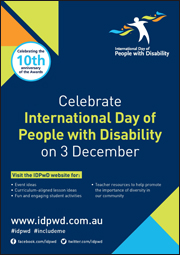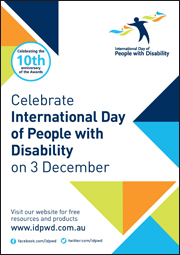 Wallpapers
Chatterbox
Make your own products
Please check the IDPwD Style Guide for use of the IDPwD logo when creating your own products or materials.
If you wish to purchase a large amount of products for your event, we encourage you to contact a manufacturer to handle your order.
The Australian Government supports Australian Disability Enterprises (not-for-profit organisations that provide employment for people with significant disability), many of whom make promotional products.
To get you started, you could use the details of the IDPwD ribbon with optional backing card design. These designs would be appropriate for a fabric ribbon with pin or metallic and enamel type with magnetic backing.